UpTo "10% Discount" on all IVF Packages. - Noida
Friday, 10 May 2019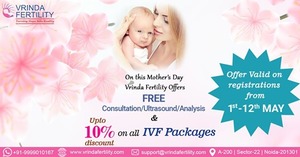 Item details
City:
Noida, Uttar Pradesh
Contacts

Vrinda

9999010167
Item description
1st to 12th MAY
On this "Mother"s day"
Vrinda Fertility Offers
✔️ Free
⚈ Consultation
⚈ Ultrasound
⚈ Analysis
✔️ UpTo "10% Discount" on all IVF Packages.
For free #IVF Consultation Call:- 9999010167
And visit Website:-httpvrindafertility.com
About Us:-
IVF is the In-Vitro-Fertilization which is common infertility treatment and effective types of assisted technology to help the pregnancy. Therefore, most couple don't have baby after long time they decide that need to visit IVF specialist, most couple search Best IVF Clinic in Noida to treatment of Infertility. We would like to inform you that Vrinda Fertility come Top 10 IVF Clinic in Noida, Delhi NCR. Here, you will get the best treatment complete the mother dream.